The English translation can be found below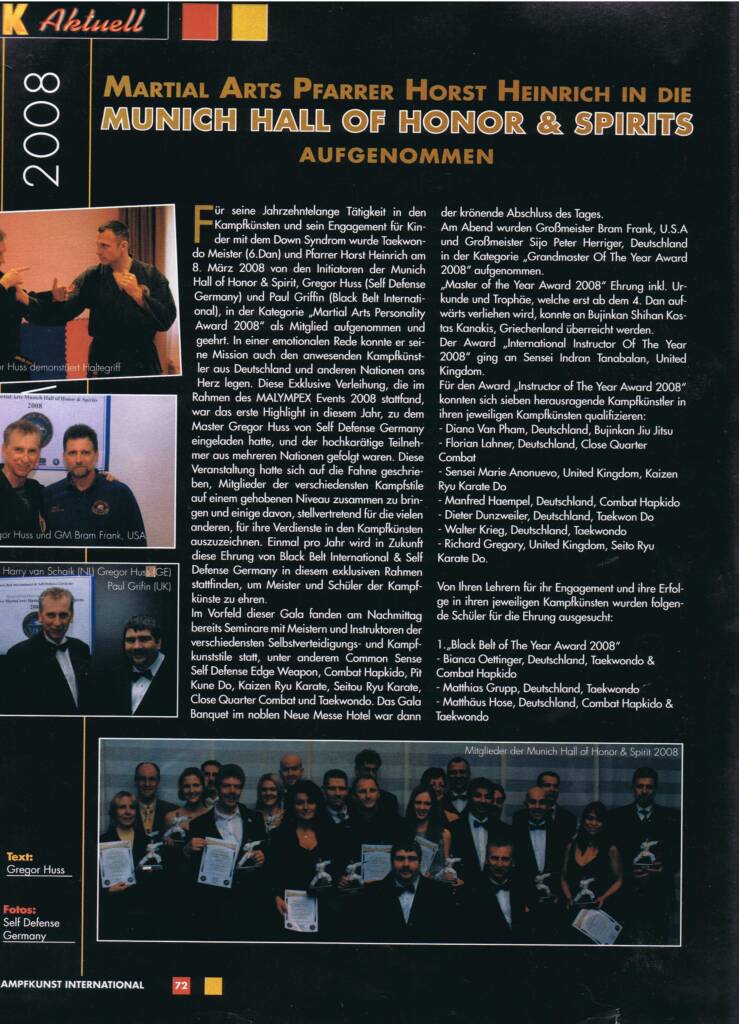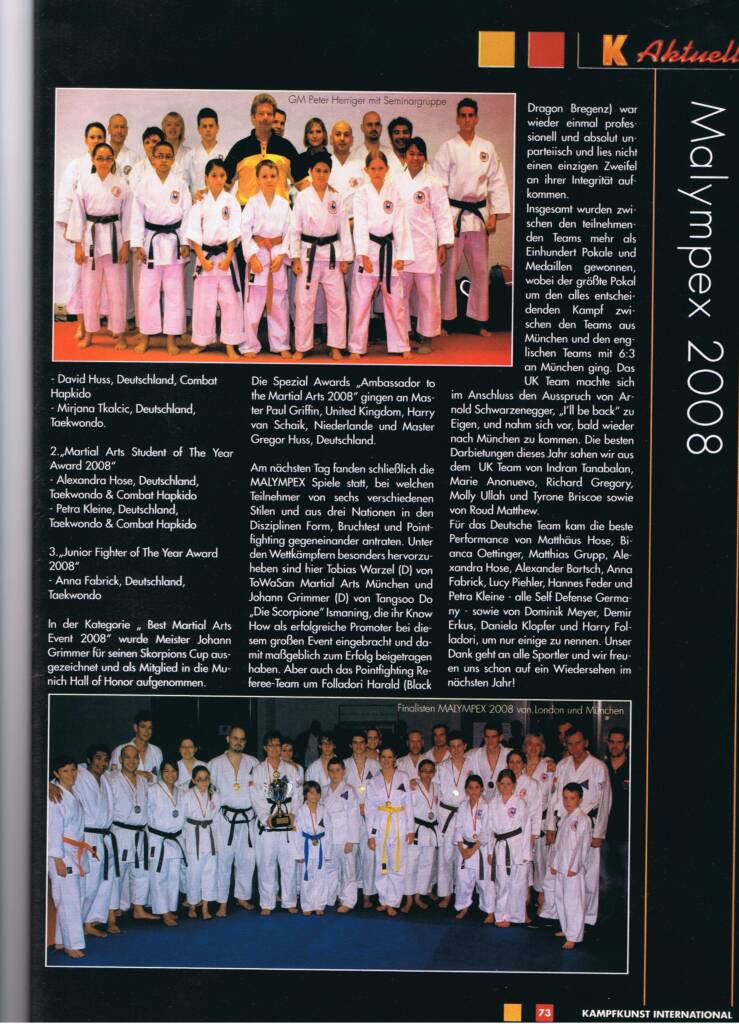 Translated using Google Translate
Martial Arts Pastor Horst Heinrich in the
MUNICH HALL OF HONOR & SPIRITS
REVIEW
For his decades of activity in the martial arts and his commitment to children with Down syndrome was Taekwondo champion (6th Dan) and Pastor Horst Heinrich on 8th March 2008 and of the founders of the Munich Hall of Honor and Spirit, Gregor Huss (Self Defense Germany) and Paul Griffin (Black Belt International), in the category "Martial Arts Personality Award 2008" honored and accepted as a member. In an emotional speech, he was also its mission to present martial artists from Germany and other nations put your heart into. This exclusive ceremony, which was held under the MALYMPEX events in 2008 was the first highlight of this year, hosted by Master Gregor Huss of Self Defense Germany, under the high profile participants were followed from several nations. This event had taken up the cause, bring members of different fighting styles on a raised level and a few of them together, is representative of the many others for their achievements in the martial arts honour. Once a year, will take place in the future of this honour Black Belt International & Self Defense in Germany this exclusive setting to honour students of the martial arts under Master.
In preparation for this gala took place on the afternoon already held seminars with teachers and instructors of various self-defense and martial arts styles, including Common Sense Self Defense Edge Weapon, Combat Hapkido, Pit Kune Do, Kaizen Ryu Karate, Seitou Ryu Karate, Close Quarter Combat and Taekwondo . The Gala Banquet in the posh Neue Messe Hotel was the crowning glory of the day.
In the evening, Grandmaster Sijo Peter Herriger, Germany, were included in the category of "Grandmaster of the Year Award 2008".
"Master of the Year Award 2008" ceremony including certificate and trophy, from which only the 4th Dan is given up, could be presented to Bujinkan Shihan Kostas Kanakis, Greece.
The Award "International Instructor of the Year 2008" was awarded to Sensei Indran Tanabalan, United Kingdom.
Award for "Instructor of the Year Award 2008" were able to qualify seven outstanding martial artists in their respective martial arts:
Diana Van Pham, Germany, Bujinkan Jiu Jitsu
Florian Lahner, Germany, Close Quarter Combat
Sensei Marie Anonuevo, United Kingdom, Kaizen Ryu Karate Do
Manfred Haempel, Germany, Combat Hapkido
Dieter Dunzweiler, Germany, Taekwondo
Walter Krieg, Germany, Taekwondo
Richard Gregory, United Kingdom, Seitou Ryu Karate Do
From your teachers for their dedication and achievements in their respective martial arts the following pupils have been selected for this honour:
1. "Black Belt of The Year 2008"
Bianca Oettinger, Germany, Taekwondo and Combat Hapkido
Matthias Grupp, Germany, Taekwondo
Matthäus Hose, Germany, Combat Hapkido & Taekwondo
David Huss, Germany, Combat Hapkido
Mirjana Tkalcic, Germany, Taekwondo
2. "Martial Arts Student Of The Year 2008"
Alexandra Hose, Germany, Taekwondo and Combat Hapkido
Petra Kleine, Germany, Taekwondo & Combat Hapkido
3. "Junior Fighter Of The Year Award 2008"
Anna Fabrick, Germany, Taekwondo
In the category "Best Martial Arts Event 2008" Johann Grimmer was chosen for its Scorpion Cup and admitted to membership of the Munich Hall of Honor. The Special Awards "Ambassador to the Martial Arts 2008" went to Master Paul Griffin, United Kingdom, Harry van Schaik, The Netherlands and Master Gregor Huss, Germany.
The next day, finally took place MALYMPEX games in which participants from six different styles and from three nations in the form of disciplines, breaking test and Pointfighting faced each other. Highlight Among the competitors especially here are Tobias Warzel (D) of ToWaSan Martial Arts Munich and John Grimmer (D) of Tangsoo Do "The Scorpions" rally their expertise so successful promoter in this big event contributed close introduced and thus contributed to the success have. But the referee was Pointfighting team Folladori Harald (Black Dragon Bregenz), once again professionally and absolutely impartial and read not pay a single doubt about their integrity.
Overall, between the participating teams were more than one hundred trophies and medals won, with the largest trophy to the decisive battle between the teams of Munich and the British teams went with 6:3 to Munich. The UK team used the following quote by Arnold Schwarzenegger, "I'll be back" as their own, and made a mental note to come back soon to Munich. The best performances this year, we saw from the UK team of Indran Tanabalan, Marie Anonuevo, Richard Gregory, Molly and Tyrone Briscoe Ullah and Matthew Roud.
For the German team was the best performance of Matthäus Hose, Bianca Oettinger, Matthias Grupp, Alexandra Hose, Alexander Bartsch, Anna Fabrick, Lucy Piehler, Hannes Spring and Petra Kleine – all from Self Defense Germany – and by Dominik Meyer, Demir Erkus, Daniela Klopfer and Harry Folladori to name a few. Our thanks go to all the athletes and we look forward to seeing you again next year!