Instructor Profile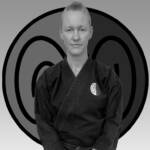 Sensei Caroline Hang Hong
3rd Dan Seitou Ryu
3rd Dan Goju Ryu Karatedo Seiwakai
3rd Dan JKF Goju Kai
Tai Chi Instructor
Grading History
Shodan-Ho – Kenshukai (2004)
Shodan/1st Dan – Seitou Ryu (2006)
Nidan/2nd Dan – Seitou Ryu (2014)
Nidan/2nd Dan – Goju Ryu Karatedo Seiwakai (2015)
Nidan/2nd Dan – Japan Karatedo Federation (JKF) Goju Kai (2015)
Sandan/3rd Dan – Seitou Ryu (2018)
Sandan/3rd Dan – Goju Ryu Karatedo Seiwakai (2018)
Sandan/3rd Dan – Japan Karatedo Federation (JKF) Goju Kai (2018)
Tai Chi Instructor – Shi Kon Martial Arts (2021)
Training History
Caroline took up karate in 2000 as a single woman living in the heart of South London wanting to learn some self-defence. She started training under Bijal Wadher at the Kenshukai Herne Hill dojo.
After several months of training, Caroline took up a full-time position at the club and became the instructor at the South Wimbledon Dojo, and later West Norwood. It was here that she first met and worked with Sensei Richard.
After 18 months Caroline left the employ of the club and continued her karate training under the direct tutelage of Sensei Richard.
From then to 2007 Caroline was an instructor at the Wickford dojo which became one of the best attended in the club.
In 2004 Caroline achieved the grading of Shodan-ho in Kenshukai and eventually went on to achieve Shodan in 2006 in Seitou Ryu.
Caroline and Richard were married and had their first child; Amelia in 2007, and then Phoebe was born in 2011. During this time she put her training and teaching on hold to raise their daughters.
In January 2013 Caroline enthusiastically resumed training and is proud to have achieved Nidan in Seitou Ryu in July 2014 followed just a year later by also grading to Nidan in Japan in Goju Ryu Karatedo Seiwakai and JKF Goju Kai.
Sensei Caroline runs the Grays Park Road dojo on Saturdays and assists Sensei Richard at the South Ockendon, Wickford and Grays dojos from Monday to Friday.
Qualifications
DBS Checked (enhanced disclosure)
Professional Indemnity Insurance
First Aid trained & certified – Sport Essex
2017 – Qualified as a Silver Level Fit2Fite Instructor
2016 – Certified Fit2Fite Instructor
2007 – Level 1 Coach – City & Guilds (Classic Coaching)
2005 – Recognised Instructor and Grading Examiner by NAKMAS
Recognitions
2008 – Continued Excellence in Martial Arts – Munich Hall of Fame
2003 – Most Motivating Instructor Award – Kenshukai Annual Awards
Competition Achievements
Caroline was a regular competitor on the karate tournament scene and achieved several trophies in both kata and kumite, below are just some of her tournament achievements:
2008 – 1st Place Kata – Seitou Ryu Invitational
2008 – 1st Place Kumite – Seitou Ryu Invitational
2008 – 2nd Place Team Kata – Seitou Ryu Invitational
2008 – 2nd Place Team Kumite – Seitou Ryu Invitational
2006 – 3rd Place Kata – AMA Southern Open Championships
2006 – 3rd Place Kumite – AMA Southern Open Championships